ArtPark – A creative blend of community gardens, orchard, and stunning desertscape, ArtPark is the outdoor portion of the Borrego Art Institute campus and it's bound to inspire you! Here you can get hands-on education on creating a sustainable and ecofriendly environment, take a healthy eating stroll and enjoy the serenity of an ever-changing desert garden. Fresh, seasonal produce is available throughout the year and visitors are always welcome!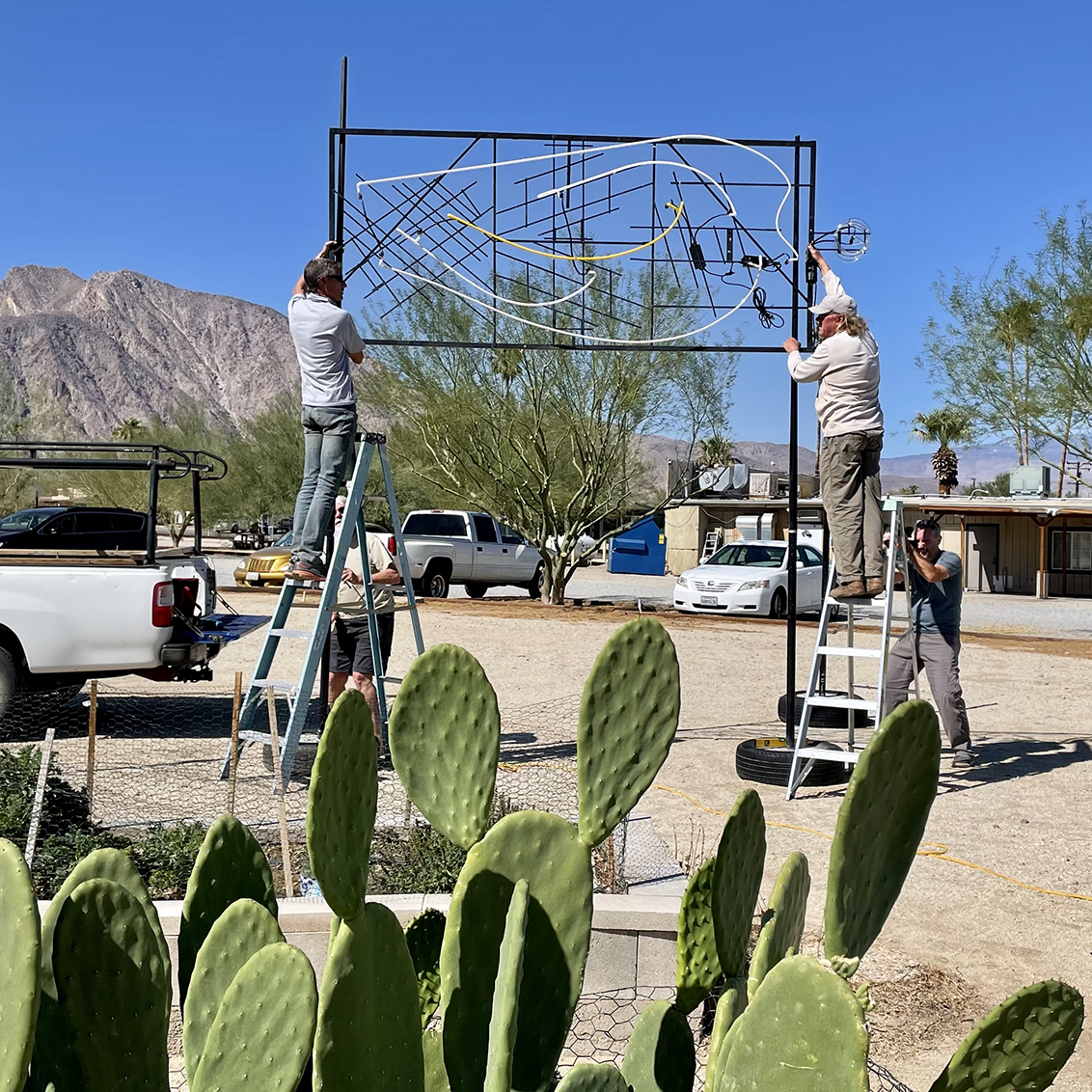 This week this fun and exciting neon art was installed at the ArtPark. It's here for a few weeks to enjoy. Artist Mike Horton.
Delicious fresh vegetables for sale!
Production Gardens, Orchard and Vegetable Sales
Seasonal vegetables are available weekly at the ArtPark. The gardens provide bumper crops of squash, onions, salad greens, Swiss chard, herbs, eggplant, peaches, apples, and figs in season.
These super-fresh veggies are the best deal in town at $5 a bag.
Selection and days of availability vary by season, but no matter which fruits and vegetables are available, they are always harvest-day fresh. Harvest days are posted on the BAI Facebook and Instagram pages. Click the icons at the bottom of this page to follow us!
Looking for just a pinch of oregano or a bag of swiss chard? Stop by the gardens any morning and ask a volunteer what's available. ArtPark volunteers are always happy to help transform your next meal into something great!
Produce is also available for those in need, with over 25% of all fruits and vegetables donated to local families suffering from financial hardship.
The ArtPark Community Garden
The ArtPark community garden provides food for individuals, families, and the community at large. You can choose one of 30 large garden plots to grow an assorted mix of desert-hearty vegetables, herbs, flowers, and succulents.
Classes are available throughout the spring and fall season, where you can get tips on soil, pruning, seed germination, beekeeping, watering, disease, and pest mitigation. If you are interested in renting a community garden plot, please stop by the gardens to speak with a volunteer, or email us.
If you are looking for an oasis of beauty and creative gardening, come stroll through the gardens at your leisure. Bring a camera or paintbrush – inspiration is everywhere!
For ArtPark information contact Wade at:
Become an ArtPark Volunteer
You can make a difference
The ArtPark gardens are driven by volunteers who are dedicated to growing, harvesting, sharing and connecting with the Borrego Springs community through the arts. The ArtPark relies on volunteers for many services, including daily gardening, facility improvements, fundraising, teaching classes, community outreach, and preparing produce. Volunteer training is available each season to learn about the garden program and how your talents can best be used. A volunteer handbook is also available, which includes safety information and highlights how you can become involved today!
If you're interested in volunteering, please stop by the gardens weekdays between 8:00 a.m. and 11:00 a.m. and meet with Wade, the ArtPark Director.
Stainless steel sign with your personal message
Twenty-six concrete tables have been added to the center of town, starting at ArtPark and continuing west along Palm Canyon Drive to The Mall. The tables provide a peaceful place to rest or enjoy a meal and have been a great addition to town. 
Please contact the BAI if you are interested in becoming a full or partial table sponsor. With a full-table sponsorship of $1,000, you can add a name plate to one of the beautifully designed tables, which are constructed to last a lifetime. It's a great way to commemorate loved ones!
The ArtPark Garden Classroom
Enriching, age-appropriate learning opportunities
The ArtPark garden classroom is an ideal location to learn about various topics surrounding organic growing and healthy eating. Classes and single-day field trip opportunities are offered to students throughout San Diego, Riverside, and Imperial counties. Choose from various topics, and our team of dedicated teachers will provide an enriching, age-appropriate learning opportunity for your students. Many lessons are funded through grants and private donations to provide students with the opportunity to learn free of charge. 
Art and creative expression are part of every class, so join us outdoors for a fun and inspiring learning experience in the ArtPark garden classroom.
Scraps to Soil! Our Compost Program
Help the ArtPark gardens by dropping off kitchen scraps
Turn your leftover vegetable peelings, bread, coffee grounds, and other kitchen scraps directly into compost that goes back into the Community Gardens. Healthy soil is a major part of growing in a desert environment, and your kitchen scraps help make it possible.
Dropping off compostable material at the ArtPark is quick and easy, and volunteers are happy to share more about the compost program next time you stop by the ArtPark.