To many, the Borrego Art Institute seems an unlikely element for a tiny desert town like Borrego Springs, a place literally in the middle of nowhere. It's hard for many visitors to understand how a small, out-of-the way town could possibly support such a successful art and cultural venue. But there it is, a gleaming, midcentury modern building with attention-grabbing art and beautiful desert gardens right in the heart of the village.
It all started in 2003 with a partnership between a visionary Borrego Springs artist, Nita Wipper, and a successful businessman, Dennis Nourse. Dennis, newly retired and recently settled in Borrego Springs, brought a wealth of "let's-get-it-done" talents to a town in need of fresh leadership. Nita, a leader in Borrego's emerging art community, was a strong advocate for establishing a gallery – a place to hang and sell the work of local artists. Nita presented the idea to Dennis, who was deeply concerned that, due to budget cuts, the school district had been forced to give up art education. Nita's idea could help establish a venue to provide it, as well as a place to showcase local art.
Open for Business – December 2005
Less than two years later – with their leadership, a supportive community, and $35,000 in startup donations – the Borrego Art Institute opened in a modest space in The Mall on Palm Canyon Drive. It offered something completely new and exciting in the community — a dedicated space to show, appreciate, and buy art; interact with artists and friends; and take classes.
From day one, the BAI Gallery brought a unifying and happy "art buzz" to Borrego Springs and attracted a growing group of artists, students, and patrons. The community happily discovered that there was plenty of demand for art in Borrego Springs — and plenty of accomplished local and regional artists to provide it.
Art as Catalyst
The BAI's success coincided with the Borrego Village Association's plans to improve the village. Central to improving the small downtown area was to "do something" about the abandoned Borrego Valley Foods building sitting at Christmas Circle and 665 Palm Canyon Drive — a main entrance to the village. The sorry structure certainly did not make an appealing impression on visitors and was a sad reminder of failed dreams for residents.
Community leaders and philanthropists Anne and Jim Wermers, experienced architectural preservationists, bought the building and decided to work with the Borrego Art Institute to turn it into something special. By August 2011, the dilapidated building belonged to the BAI. There were 8,000 square feet of mess to clean up, with ambitious plans for a gallery, workshop space, desert landscaping, and a full-service restaurant with patio dining.
Under the watchful eye of noted architect and Borrego Springs resident Richard Orne — and with thousands of dollars donated by enthusiastic community members — renovation began in the fall of 2011. The building became a work of art in itself, with expansive glass walls, high ceilings, the latest in display and lighting arrays, and impressive desert landscaping designed and donated by part-time resident Leslie McQuown.
The best news is that the venture is a local effort, through and through. Donors, architects, construction teams, and volunteers are all full- or part-time residents with authentic and personal passion for the project. There were no tax dollars, government agencies, or outside developers involved.
"The story is inspiring because we all pulled together as a community of caring people to make this happen.
It's a big statement about what's possible when there's a compelling vision. Isn't that what artists do?"
Dennis Nourse, Co-Founder
Another Grand Opening
On January 19, 2013, 800 people attended the new Borrego Art Institute's grand opening and were wowed by the artfully reclaimed midcentury landmark. Returning tourists and snowbirds were amazed at the transformation.
Now there is a busy year-round calendar of openings and shows, starting in October and continuing through April. Even in the slower summer months, the Gallery features "The Summer Show," a mixed media showcase for local and regional artists. A team of more than 30 volunteers hangs shows, runs the desk, and manages building operations. The number of fans is growing, including many enthusiastic visitors from all over the world.
Left to right: Jim Wemers, Richard Orne, Dennis Nouse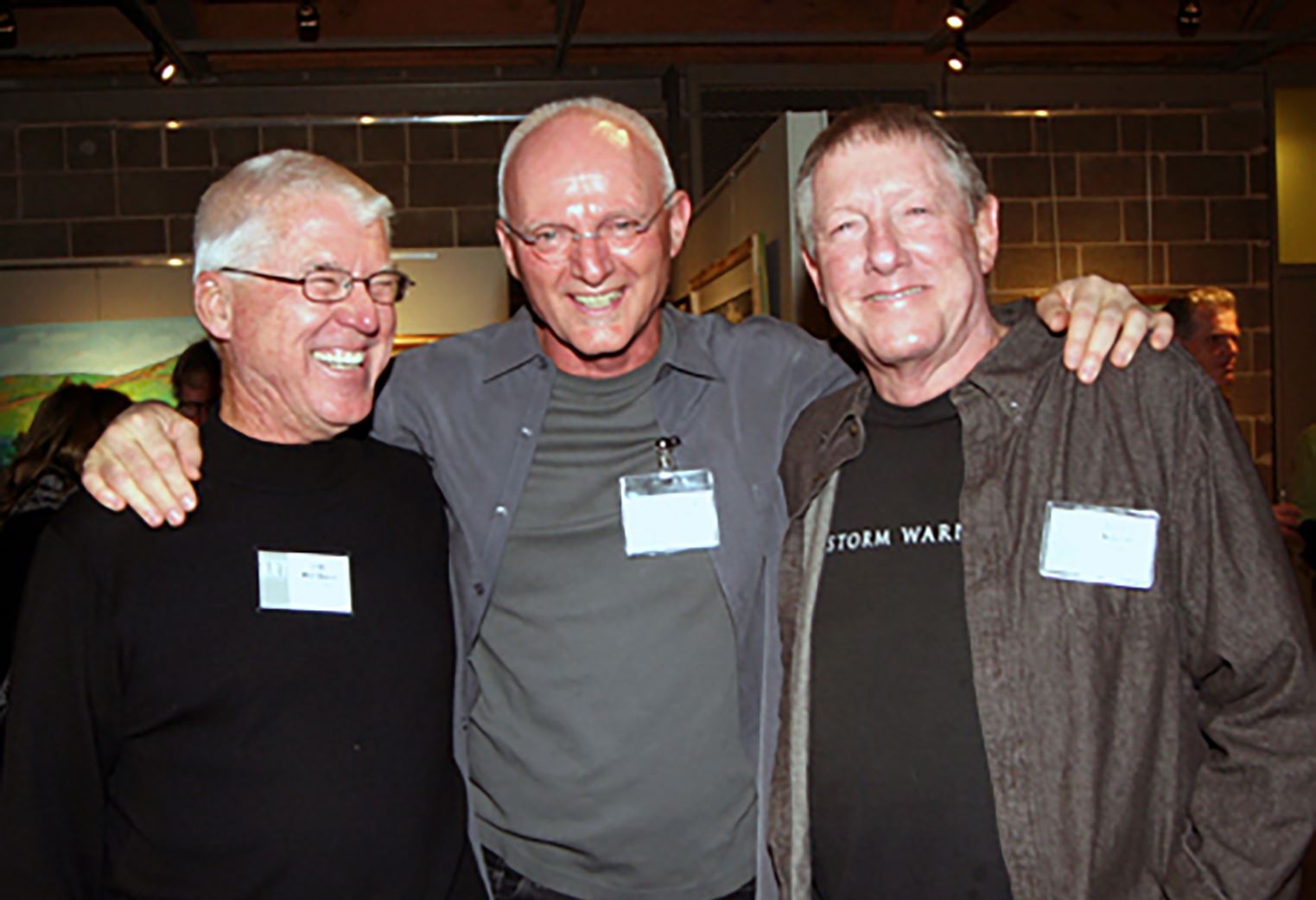 "We can't quite believe it ourselves. It was a dream for so long, and now we're here in this stunning new space. It's a testament to the power and persuasion of art to inspire us."
Nita Wipper, Co-Founder
The Vision Grows, The Pavilion

Looking toward the future, teams of busy volunteers are working to create even more new opportunities for artists, visitors, students, and the community. After years of planning, BAI is nearing construction on the newest addition to the ArtPark, The Pavilion. This multipurpose building is designed to house classroom space, an outdoor kitchen, pottery studio, gift shop, and covered gardens. In conjunction with the ever-expanding campus, The Pavilion will promote hands-on creativity while providing education, fresh produce, culinary instruction, entertainment, and a pottery studio for community members and Borrego Springs visitors alike.
The ArtPark Pavilion is a culmination of many years of dreaming and planning to create something truly magical for the community. The BAI board, volunteers, and supporters are thrilled to be able to bring such an incredible asset to Borrego Springs.
A Gift to Borrego Springs

Local leaders agree that the BAI campus is a huge gift to the village. "The Borrego Art Institute makes such a positive statement about our future," claims Dan Wright, former president of the Borrego Springs Chamber of Commerce. "Visitors have always appreciated our town and the surrounding State Park. But now, they have even more to delight them. We think what the Art Institute has done will spur even more new ventures, and that's good for everyone." Indeed, businesses up and down Palm Canyon Drive are busy sprucing up their own facilities and landscaping. The beautification bug is spreading.